Welcome!
The Minnesota Project's blog features news, analysis, resources, musings, and events Centered on Sustainability in the areas of clean energy, local food, and conservation agriculture. Visit our Web site to learn more about the organization and our work at www.mnproject.org.
From our friends at Renewing The Countryside:
Peggy Petrzelka, a rural sociologist and associate professor at Utah State University, is travelling the country to gather information
from women farmland owners who lease their land to others to farm. If you are a woman landowner who leases land and would like to participate in the focus group please RSVP to Jan Joannides at jan@rtcinfo.org or 612-251-7304.
The focus group will take place at:
Zumbrota Public Library, 100 West Ave, Zumbrota, MN 55992
Friday, July 25, 2014
10 am to 1 pm
(A complimentary light lunch will be served and mileage reimbursement will be provided.)
On Friday, July 25, Dr. Peggy Petrzelka will be in Zumbrota, MN to hold a focus group with women landowners. The meeting is part of a project to learn more about the issues that women landowners face nationwide and is sponsored by the American Farmland Trust and Utah State University and coordinated locally by Renewing the Countryside, with support from The McKnight Foundation and the Woman, Food and Agriculture Network.
"We know very little about this group of agricultural landowners, yet, know in some areas of the country their numbers are growing (in Iowa, for example, 48% of the agricultural land is owned by women, either as sole or co-owners)," says Peggy Petrzelka. "These numbers are expected to rise over the coming decade as the women inherit land from their parents or become sole owners if their husbands die before them."
The focus group will include testing a draft survey that will eventually be sent to women landowners nationwide and discussing any issues/concerns women landowners have regarding their land and their interest in conservation practices. Woman will be asked to share their reactions to survey questions such as the regional appropriateness of the questions, length, confusing questions, questions which we need to be asking, etc. so the project can be improved.
The end product of this research will be recommendations to federal and state agencies to help them be more responsive to this subset of farmland owners
Listeners of radio and watchers of local news may have heard and seen The Minnesota Project and our micro-farm project in recent weeks. If you missed it, here's some links: Here, Executive Director, Dave Glenn and Emergency Foodshelf Network's Sophia Lenarz-Coy, talk with Lee Valsvik of Cities97, Twin Cities Community which aired on June 8th and again on June 22nd. http://www.cities97.com/media/podcast-twin-cities-community-podcast-psa/emergency-foodshelf-network-24875181/
And here, The Minnesota Project's EJ Gurley and Emergency Foodshelf Network's Executive Director, Lori Kratchmer are interviewed by Jessica Miles on KSTP on June 20th. http://kstp.com/article/stories/s3481252.shtml
If you liked this and want to support The Minnesota Project, click here:
  All donations are tax deductible. Thanks for the support!
You can also like us on Facebook
FOR IMMEDIATE RELEASE: 
July 9, 2014
Minnesota Environmental Fund Announces New Executive Director, Cordelia Pierson
The Minnesota Environmental Fund (MEF), the leading nonprofit that supports giving by employees to organizations that protect, conserve, and restore Minnesota's environment, has selected Cordelia Pierson as its new executive director.
Trained in environmental science and law, Pierson brings more than twenty years of nonprofit, financial management, and partnership experience serving as a nonprofit executive director, board president, program director, and collaborative leader. As the first executive director for the Minneapolis Riverfront Partnership, Pierson led fundraising, organizational development, and Mississippi riverfront land protection and revitalization with corporate, elected and citizen leaders. With the Trust for Public Land and other MEF environmental members, she helped form and contributed to private-public partnerships to protect and advocate for metro greenways, clean water, land and our Minnesota natural legacy.  She succeeds Ed Marek, who served MEF since 2001.
"We are extremely proud to have Cordelia as Minnesota Environmental Fund's new executive director," said Bjorn Gangeness, Minnesota Environmental Fund Board President. "She has demonstrated her passion for Minnesota's environment and has collaborated with many of our 23 nonprofit environmental members. We are truly excited by her intent to foster deep relationships with the companies and employees who protect, conserve and restore our environment through workplace giving."
"Minnesota stands out as a place where people value a healthy environment.  With workplace giving for clean water and our quality of life, employers engage and retain talented, committed employees," said Pierson. "I'm excited about the opportunity to grow Minnesota's investments in our precious air, land, and water resources through strong relationships with our workplace campaign partners, donors, and volunteers."
About the Minnesota Environmental Fund
The Minnesota Environmental Fund, a 501(c) nonprofit organization, educates and provides employers and their employees with a vital, easy workplace giving choice to financially support more than twenty nonprofit organizations that protect clean water, clean air, land, and food; advocate for environmental justice; and promote a clean, safe and healthy environment. The Minnesota Project is a member organization of The Minnesota Environmental Fund.  For more information about MEF, its environmental partners, and workplace giving for Minnesota's environment, please visit us on the web at www.mnenvirofund.org.
CONTACTS:
Bjorn Gangeness, President, Board of Directors
Minnesota Environmental Fund, campaign@mnenvirofund.org
Cordelia Pierson, Executive Director
Minnesota Environmental Fund, cpierson@mnenvirofund.org
Phone: 651-917-1876
Are you considering planting your first fruit tree?  Perhaps you already have a few fruiting trees and shrubs and are deciding what to plant next.  Join the Minnesota Project's Fruits of the City program August 19th as we learn more about some of the different varieties of apples, berries, cherries, and plums (and more!) along with the pros and cons of each.  Find the perfect fruiting plant(s) for your tastes and yard conditions!
Edible Landscaping is made up of several tiers of plant types and each is very important for maximizing the production of food on your urban landscape.  This class will focus on going through some of the different cultivars and species of the tree and shrub layer.  Each one of the plants highlighted bear delicious and edible fruits that can be used for fresh eating, baking, juicing, drying, etc. Register online at www.yardscaping.eventbrite.com
Yardscaping with Fruit: Apples, Berries, Cherries, and More!
Tuesday, August 19th, 6:30 – 8:00 pm
Eastside Food Co-op –  Granite Studio Room
2551 Central Avenue NE, Minneapolis, MN 55418
Cost: $20 ($15 for Eastside Co-op Members)
Presenter: Rebecca Koetter is a consultant working with various edible trees and shrubs throughout the Metro area.  She has experience designing, selecting, implementing, harvesting and processing from nearly every fruit from a woody plant growing in MN.  Rebecca has an undergraduate from Dept. of Forest Resources, Master's degree from College of Food, Agricultural and Natural Resources Science and worked with the Dept. of Forest Resources, University of Minnesota for five years.
Directions:
Eastside Food Co-op is located on the corner of Central Avenue NE and 26th Avenue NE.  Parking is available in the Eastside Food Co-op parking lot.
For more information contact Fruits of the City at 651-789-3321 or Fruits@mnproject.org or visit these websites:
Join The Minnesota Project on July 23rd for an evening of food, friends, and refreshments as we learn more about the Minnesota Project's 35 year history of advancing community based solutions in Minnesota and take an in-depth look at the Fruits of the City program.
The Minnesota Project's Fruits of the City program matches residential fruit tree owners and nearby orchards with trained volunteers that harvest their surplus fruit and share it with those in need. Since 2009, this innovative and award winning program has supported Minnesota food shelves and the families they serve with over 230,000 pounds of fresh and healthy fruit (over 2,227,000 servings) that would have otherwise gone to waste. Join us as we learn more about this growing program and what we can do to support increased access to fresh food for all Minnesotans.
Wednesday, July 23rd 2014
6:00 PM to 7:30 PM
Home of MN Project Board Member Rändi Setter
11991 Janero Avenue N., Hugo, MN 55038
Appetizers and beverages will be provided. The suggested donation for attending the event is $20, but if you are new to The Minnesota Project, please come as our guest. For directions and to RSVP, visit www.fruitsofthecity.eventbrite.com
About The Minnesota Project
The Minnesota Project is a nonprofit organization championing the sustainable production and equitable distribution of energy and food in communities across Minnesota. To best address the multiple factors that define sustainability, the organization focuses on three areas – the development and efficient use of clean renewable energy, promotion of sustainable agriculture practices and production, and consumption of local, sustainably grown food. Founded more than 30 years ago, today the organization works toward establishing a sustainable Minnesota by 2039 through education and outreach, as well as developing key ground-up, grassroots initiatives targeted at empowering communities and their leaders. www.mnproject.org.
Minnesota is a national leader in the large wind energy market.  We are ranked #7 in terms of total electricity generated by wind in 2013, and #5 in terms of percentage of electricity generated by wind power. But what is the impact of the distributed wind energy market in Minnesota – the electricity generated by small (less than 100 kW) and medium (up to 1000 kW) wind turbines and the economic impact of that market?
Over the past four months, MN Renewable Energy Society, The Minnesota Project, and partners have conducted market surveys, numerous interviews with market participants and a review of the practices of distributed wind energy companies  for the Minnesota Department of Commerce, Division of Energy Resources.  Learn the most recent information about the small and medium-sized wind energy market in Minnesota by joining the MRES Distributed Wind Energy Market Webinar on June 26 at 2 p.m. Central Time. The Webinar is open to all.
Want more info? Learn what distributed wind energy is HERE.

No, we don't need micro-hands, we need hands on a micro-farm!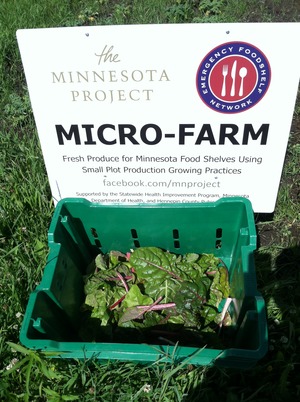 The micro-farm is six weeks old! And despite all the rain we've had we are still on track to have a good first harvest in a few short weeks. We've already had to thin out some of the crops like Swiss Chard, Radishes and Kale! And the Tomatoes are appearing on the plants and we're getting them up in cages and on trellises.
Now is the time when we need lots of tending. The more care we put into this plot project, the better our harvest will be in quality and quantity. We want to get the best food we can to those who are in most need.
We have several days a week as options. Click below to see the schedule and sign up. We'll also be scheduling harvest days when we will need people in the fields and in the warehouse washing and packing. Look for a separate announcement for those.
Every Tuesday, 4-6pm
Every Thursday, 9-11am
These Saturdays: July 5, 19 | Aug. 2, 16, 30 | Sept. 13, 27

8501 54th Ave North, New Hope, MN 55428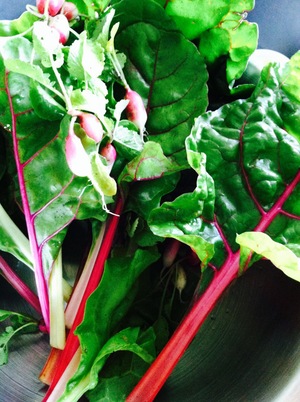 The purpose of the micro-farm is to demonstrate how much produce can be grown on small acreages including a corporate campus worksite.  Please join us in this great initiative!
The Emergency Foodshelf Network is located at: 8501 54th Avenue North, New Hope, MN 55428
For more information please call EJ at The Minnesota Project at 651-789-3326 or email: ejgurley@mnproject.org