Welcome!
The Minnesota Project's blog features news, analysis, resources, musings, and events Centered on Sustainability in the areas of clean energy, local food, and conservation agriculture. Visit our Web site to learn more about the organization and our work at www.mnproject.org.
Farmers know how busy spring can be. There is a lot to put in place now in order for the rest of the year to run smoothly and successfully. This year's late planting has made the month of May all the busier for many.
When it rains it pours, they say. And, true to the saying, there are a number of deadlines this month for federal energy funding program applications that farmers might consider in order to help their farms run more smoothly and successfully.
May 17 – EQIP
First up, today! is the deadline for the last 'ranking period' this year in the Natural Resources Conservation Service (NRCS) Environmental Quality Incentives Program (EQIP). EQIP helps provide financial and technical assistance to agricultural producers to help plan and implement conservation practices, including sharing in the cost of a farm energy audit, and, once an audit has been done, offering a cost-share on the recommended equipment upgrades. Contact your local USDA Service Center to talk with NRCS staff about the program and inquire about next year – even if you can't make the deadline today.
May 31 – REAP
Next, the Rural Energy for America Program (REAP) provides assistance – both grants and loan guarantees – to agriculture producers and rural small businesses to install renewable energy systems or complete energy efficiency improvements. Grant funding under REAP offers up to 25% of total project costs, and loans and grant/loan combinations will cover up to 75% of total project costs.
REAP applications for energy efficiency projects require an energy audit that shows energy savings. Depending on the project budget, there are differing requirements for the energy audit report and who conducts it. While in years past REAP has helped pay for an energy audit, that opportunity is not available this year.
For more information, contact your local USDA Rural Development office. When ready to apply, submit your application by May 31 to Ron Omann, USDA Rural Development, 375 Jackson Street, Suite 410, St. Paul, MN 55101. (Loan applications can be submitted until July 15.)
May 31 – CSP
Update: The May deadline has been rescinded, and until a new deadline is announced, the NRCS will be accepting applications on an on-going basis.
The Conservation Stewardship Program provides participants with an annual land use payment for operation-level environmental benefits they produce. It encourages land stewards to improve their conservation performance by installing and adopting additional activities, including implementing energy efficiency upgrades. Payments are based on conservation performance: the higher the operational performance, the higher the payment. The USDA-NRCS has announced $175 million in funding for enrolling an additional 12.6 million acres in the program this year
To determine if your farm is right for CSP, you can use the self checklist (PDF). Then, when ready, submit an application to your local NRCS office by May 31 to ensure you're considered for this year's funding.
If you decide to move ahead with any of these programs and are in need of a farm energy auditor, please contact us and we'll put you in touch with someone well qualified. Call 651-789-3324 or email sdaniel@mnproject.org.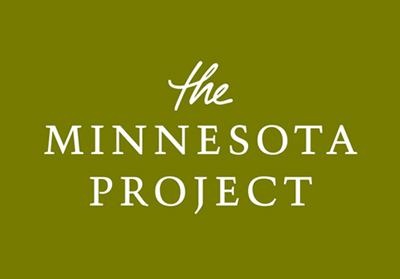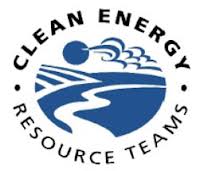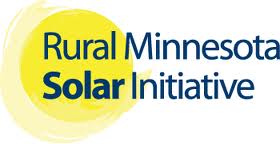 This is Fritz Ebinger and Joel Haskard from CERTs writing to let you know about an opportunity to make solar electric fencing on the farm an easy, affordable choice.
What's the deal? If you or someone you know are planning to install electric fencing or replace old batteries this spring, you now have a bargain available with a special $50 discount for the Blitzer 30 Mile Solar Fence Charger (pictured below) at Mills Fleet Farm. The unit is on sale for $239.99 through April 30th, 2013 (down from its regular price of $289.99).  ONLY 5 DAYS LEFT!
What are the features? The Blitzer is great for rotational grazing and remote applications and is capable of powering long fence lengths (up to 30 miles). A fully-charged battery can last two weeks, even in cloudy weather. No longer will you have to trudge around replacing and recharging batteries, or worry about costly electrical connections.
How can you get one? The Blitzer unit is available for $239.99 online at http://www.fleetfarm.com. Or if you'd prefer to purchase a Blitzer at a Mills Fleet Farm store, download a coupon to print and bring with you by clicking on the image below or visiting http://mncerts.org/blitzer. The coupon can only be used at the following Minnesota store locations: Alexandria, Baxter, Fergus Falls, Owatonna, and St. Cloud.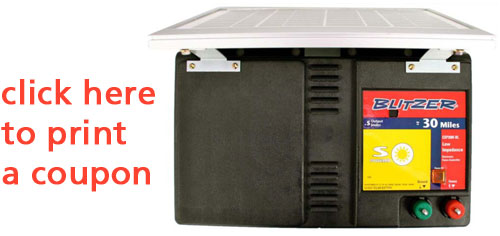 Get a coupon in the mail: If printing the coupon doesn't work, you can have a coupon mailed to you by replying to this email or contacting Joel at 612-625-8759 or Fritz at 651-789-3330.
Need more background? To learn more about the Rural Minnesota Solar Initiative and download a factsheet on solar fences, please visit: http://GetSolar.MnCERTs.org
Spread the word: Feel free to share this with your neighbors and others who might be interested!
Thanks so much,
Joel Haskard and Fritz Ebinger
P.S. Exciting Funding Opportunity: Applications are available through May 31, 2013 for the USDA Rural Energy for America Program (REAP) grants. This is an extended deadline, and the amount of available funding has tripled from $20 million to $60 million. These grants can fund up to 25% of a renewable energy project at a rural small business or farm, including solar. To learn more, visit the MN REAP webpage or download our REAP factsheet.
Joel Haskard
Clean Energy Resource Teams Co-Director
U of M Extension's Regional Sustainable Development Partnerships
411 Borlaug Hall
1991 Upper Buford Circle
St. Paul, MN 55108
haska004@umn.edu
612-625-8759
Fritz Ebinger
Clean Energy Program Manager
The Minnesota Project
1885 University Ave. W., Suite 315
Saint Paul, MN 55104
Febinger@mnproject.org
(651) 789-3330
ST. PAUL [April 2013] – The Minnesota Project and the Hastings Cooperative Creamery Company have partnered to develop strategic energy efficiency programming for dairy cooperatives and electric utilities.  With grant support from the Minnesota Department of Commerce – Division of Energy Resources, The Minnesota Project will study ways dairy cooperatives can promote farm energy efficiency to boost dairy farm profitability and achieve utility conservation standards under state law.
            Project partner Hastings Cooperative Creamery Company is a farmer-owned dairy cooperative based in Hastings, Minnesota with approximately 100 Minnesota and Wisconsin farmer members.  Hastings Cooperative Creamery Company farmers market their raw milk through the co-op to supermarkets, convenience stores, schools, and food service under the Valley View Farms® label.
Throughout 2013, The Minnesota Project and Hastings Cooperative Creamery Company will gather basic data about farmer members' energy use, create a bench-marking tool farmers can reference to compare their energy consumption to similarly situated dairies, and deliver 30 dairy farm energy audits to Minnesota-side members.  The parties will document individual dairy farm and cooperative-wide energy savings potential in light of feasible energy efficiency measures.
Following the data collection phase, the partners will engage electric utilities, equipment suppliers, and interested stakeholders throughout 2014 to develop utility programming based on the dairy cooperative energy metrics.  The Minnesota Project will demonstrate how agricultural energy efficiency programming can facilitate both farm profitability and electric utilities' Conservation Improvement Programming (CIP), which challenges electric and natural gas utilities to reduce their electricity sales by a 1.5% average over three-year periods under Minnesota law.  Ultimately, The Minnesota Project plans to replicate and scale up agricultural efficiency programming with utilities and agricultural cooperatives across the state.
About THE MINNESOTA PROJECT
The Minnesota Project champions programs for the sustainable production and equitable distribution of energy and food in communities across Minnesota. These programs are focused on the development, conservation and efficient use of renewable energy; farm practice and policy that promote profitable farms that protect and replenish the environment; and the production and consumption of local, sustainably grown foods.
Article by Joel Haskard
Maker of WoodMaster Furnaces leads tour, host dozens of attendees
RED LAKE FALLS, MN – Over thirty people toured the Northwest Manufacturing plant in Red Lake Falls on April 4th to learn about the biomass industry in Minnesota. Northwest Manufacturing is home of the Wood Master furnaces, which use cord wood and biomass pellets as their fuel source.
"These biomass furnaces can be a real win-win for communities in this area," said Chris May, the Northwest Regional Coordinator for the Clean Energy Resource Teams (CERTs) which organized the event. "It is great to see a technology where people can reduce their heating costs while supporting local manufacturing jobs at the same time."
See ph
otos from the event! Click on the slideshow below or click here to see the set on Flickr.
More resources:
ABOUT CERTS AND TMP: The Clean Energy Resource Teams connect Minnesotans and their communities with resources to identify and implement energy efficiency and renewable energy projects. The Clean Energy Resource Teams are diverse—individuals; small business owners; farmers; members of community groups; local utility representatives; educators; local, state and federal government staff and elected leaders—and all share a common interest: They want strong communities, local jobs, and secure, clean, reliable energy.
CERTs is a partnership of the University of Minnesota's Regional Sustainable Development Partnerships, Eureka Recycling, Southwest Regional Development Commission, The Minnesota Project, and the Minnesota Department of Commerce, Division of Energy Resources.  Learn more at www.mncerts.org and www.mnproject.org.
Media Contact:
Joel Haskard
Co-Director, Clean Energy Resource Teams (CERTs)
University of Minnesota's Regional Sustainable Development Partnerships & Extension
haska004@umn.edu
612-625-8759
Former Clean Energy Program Manager, Ryan Stockwell, was recently awarded the Earth Caretaker Award
by the University of Wisconsin – Green Bay for his work on renewable energy and practice of no-till farming techniques.  Stockwell served as The Minnesota Project's Clean Energy Program Manger from 2007-2009 where he focused on developing anaerobic digesters and renewable energy opportunities.
Stockwell majored in Social Change and Development and History at UW-Green Bay, graduating  in 2001.  He earned a master's degree in History at Miami University and a PhD  in History from the University of Missouri before coming to The Minnesota Project.  He left the organization in 2009 to return to his family farm and serve as Agriculture Program Manager for the National Wildlife Federation, where he continues to advocate for smart agriculture policy that reduces impacts to wildlife and natural resources. He also provides strategic leadership in eliminating barriers to farmer adoption of cover crops.
Stockwell, his wife Stephanie and their three sons (pictured with ice cream)  live in Medford, WI where they farm using no-till and cover crop practices.
Stockwell will be a guest speaker at the EMBI conference to be held April 22-24 at UW-Green Bay. The EMBI conference will include a panel discussion on genetically modified organisms, a focus on the Lower Fox River Watershed Monitoring Project and a conference on food and local sustainability.
The Minnesota Project congratulates Ryan on his award, his contributions to TMP, and his many successes.  Our hats are off to you, Ryan.
Aside from being the location for the most recent site visit in our Farm Energy Auditor Training Program, Lakewood Turkey offers an example of the use of two high-efficiency lighting options for poultry barns: Light-Emitting Diodes (LEDs) and High Pressure Sodium (HPS). In the barn that our group toured, farmer Mike Langmo is using HPS lights. Meanwhile, in the other finishing barn, he has installed LEDs and is participating in our LED Pilot Project. While each option offers energy savings over alternatives such as incandescents or fluorescents, there are both positives and negatives that poultry farmers might consider if contemplating an upgrade.
First, though, a quick overview of the role of lighting in a poultry operation such as Lakewood Turkey: There are three principle goals in the use of light – 1. letting the birds see, 2. initiating hormone release, and 3. stimulating internal growth cycles by simulating day-length. Poultry absorb a broader range of the electromagnetic spectrum than humans do. And beyond seeing with their eyes, poultry also 'see' with a packet of photosensitive cells in their brains, an area called the pineal gland. These tissues help regulate circadian rhythms in the birds and also influence sexual development and reproduction. Because poultry react strongly to light, farmers can encourage productive activity through lighting programs. In fact, the birds learn a particular lighting program and anticipate the photoperiod (or length of light and dark in a day), basing their feeding around it.

Turkey farmers provide higher light intensities and longer photoperiods during the first several days of poults' lives, part of the initial 'brooding' period where young turkeys grow in a warmer, more secure environment. More light stimulates activity and helps them find food and water sources. After a few days, the light levels are lowered some and the photoperiod shortened to approximately 16 hours of light per day for the remainder of their time in the brood barn and also after they have moved to a finishing house. (Of course, each producer brings a slightly different approach to her or his lighting program.) These longer lighting schedules mean that more energy efficient lighting can bring significant savings.
So how do farmers decide on what lighting to employ? As the University of Wisconsin Extension puts it, "The best type of lighting is the one that provides the needed amount and type of light to perform a task or increase productivity at the minimum annual cost (operating and fixed costs)."
A common measurement of a light's effectiveness and efficiency is its lumens per watt. Lumens are the amount of light a source produces. Compared to the popular compact fluorescent light, which produces 50-70 lumens per watt, HPS lights range from 50-140 lumens per watt. LEDs can offer 30-100+ lumens per watt, depending on their manufacture.
However, lumens aren't the only measurement to note. Practically speaking, how much light actually makes it to a targeted area is of greater importance. This is often measured in footcandles – the amount of light hitting a surface – defined as the number of lumens per square foot. Here LEDs give HPS lights more competition. This is because HPS lamps cast light in all directions, due to the way they operate, and must use shields and reflectors to direct the light to its intended target. LEDs, meanwhile, are built to focus light directly where it is wanted, thus eliminating the amount of wasted light.
Another consideration that makes LED lights attractive are their long lifespan (50,000 hours versus HPS's 24,000 hours) and a design that makes them much less susceptible to problems from dust, humidity and temperature. LEDs' solid-state design also eliminates worries about mercury contamination should bulbs break.
Finally, HPS lights don't stack up as well to LEDs in terms of color rendering. HPS lights give an orange-yellow light that doesn't show colors in their 'true' sense, as they would look in full daylight. LEDs, on the other hand, have a color rendering index (CRI) much closer to natural light. LEDs are also easily dimmed, whereas HPS cannot be. Given poultry's expanded sensitivity to light, LEDs can offer farmers a greater degree of control over their lighting than can HPS lights.

But LED lights are still the more expensive option, which is a key consideration for farmers facing thin profit margins and expanding costs. This higher expense and longer payback time are enough to turn many farmers away. While rebates can help alleviate such concerns, interestingly enough, the state policy underpinning utilities' rebate programs pegs reimbursement for lighting improvements to lumens per watt. And on that metric, despite advantages offered by LEDs, HPS is the more attractive option.
So, LEDs or High Pressure Sodium? With the mixed bag of cost, rebate policies, and light performance, that is still the question.
Lakewood Turkey Farm, owned and operated by Mike Langmo of Eden Valley, graciously hosted 15 of The MN Project's Farm Energy Auditor Program students on March 26.  The site visit was a success for our students on all accounts.  After following appropriate bio-security measures, students gained entry to Lakewood's brooder and finisher barns to measure insulation, propane heaters, motors, electrical equipment…and meet with 17,000 turkeys.  Most importantly, students and instructors had the chance to talk to Mr. Langmo at length about the efficiencies and economics of his farm.
Lakewood Turkey Farm is already thinking ahead.  In the spring of 2012, Lakewood installed LED poultry lights in one of two finisher barns to cut electricity costs.  Mr. Langmo was keenly aware of his heating and ventilation costs and their impacts to his flock production.  Lakewood Turkey Farm's production contract, and likely the production contracts of many other farmers, did not provide sufficient incentive to address aging insulation for reduced heating costs.  Under the production contract, the propane heating costs were covered by the corporate processor; the corporate processor held the incentive to insulate to keep heating costs low.
Lakewood Turkey, however, was not about to invest thousands of dollars in insulation and infrastructure costs because that efficiency would only be socialized throughout the cost of production the corporate processor offers to all turkey farmers under contract.  The return on investment for insulation upgrades to Lakewood Turkey's barns was virtually non-existent.  Just as well, the corporate processor had little incentive to pay for upgrades to property owned by Lakewood Turkey Farm and Mr. Langmo.  In the end, everyone and no one suffered the economic consequences of heat waste.